Check out what some of my clients have to say:
Over the years myself, family and friends have visited Leonora for a variety of reasons ranging from smoking, irrational fears and behaviours, food addictions and weight issues. We all came away from our sessions having achieved our aim and with a feeling of relaxation and renewed control over our particular problem. My specific concern was an inability to have a MRI scan due to my claustrophobic tendencies. I was having nightmares about the impending appointment but thanks to a single session with Leonora they ceased and I was able to go ahead and have my scan which enabled me to get the right treatment I needed. Leonora has been a superb counsellor, listener and hypnotherapist to us all and I have recommended her services to a large number of people and will continue to do so to help change peoples lives for the better!
Hey, my names Christian and I'm 17 and I pretty much owe Leonora my life. There are people put on the planet who are gifted and she is one of them. Words can't do justice to how much she can change your life. I really can't explain how gifted she is, I know that sounds ridiculous and that can't be possible but she has an aura around her that is not of this world. I'm just your average kind of kid, and if you're sceptical about seeing Leonora, then that's okay, but she has the ability to change your life. I guess the only words to say are thank you, and hopefully in another life I will be able to return the favour.
I sought Leonora's help because I felt overwhelmed by work and study pressures, deadlines and expectations. It was all becoming too much and really stressing me out. I needed help dealing with my nerves, finding confidence and being more positive about facing challenges. Leonora has been wonderful. She is a very understanding and reassuring presence, and a fantastic listener. She has really helped me to motivate and equip me with tools to navigate my way through difficult situations with more energy and positivity. She has helped me to stay calm, believe in myself more, feel more in control and feel optimistic about the future. I can't praise her highly enough and really value her.
Dear Leonora, I just wanted to thank you in writing for all your support and for the incredible changes that have occurred as a result of the work that we did. As you may remember, I really was in a bad way on that first visit, seriously contemplating suicide as I could see no future, no hope. A few hours later I left your office, with a whole new outlook. I knew there was work to do, but I also knew it was possible. Your ability to put me at ease was quite remarkable as was your ability to gently guide me through my various issues in a way that allowed me to feel safe and protected. You'll be pleased to know that I have continued to use all the great techniques that you taught me and I've gone from strength to strength. I'm back at work, confidence soaring, socialising regularly and even going to the gym! My parents say you deserve a medal and I totally agree, so thank you from the bottom of my heart.
Hi Leonora, we have just got back from our holiday in Mexico and wanted to let you know that I spent hours every day in the pool and the sea and loved every minute of it. I was like a kid with a new toy and had to keep pinching myself. To think that I have been terrified of water for 35 years and all it took was that one visit to turn me into a little water baby. We're already planning our next holiday and I've been swimming twice in the last week. Still don't really know how you did it but thank you…thank you …thank you…
I smoked anything between 20/30 cigarettes for over 20 years and since seeing Leonora in May 2006, I haven't touched them. Best thing I ever did! I have given her number to dozens of people, not just for smoking but for other problems as well and they've all been just as impressed. What she does and how she does it, is just amazing. I'd recommend her to anyone
I feel very fortunate to have spent time with someone as lovely, wise and experienced as Leonora. I felt completely at ease from the moment I met her and have been able to overcome a number of issues that were holding me back from being the person, wife and mother that I wanted to be. A patient listener, with a wealth of ideas and techniques to share. I am very grateful for all that she has taught me and would recommend spending time with Leonora for any issue however big or small. No judgement, just honest and very sound guidance. Many thanks! X
On 19th April 2015 at 20:21
I first met Leonora in 2004 when she turned me from a 20 year, 20 a day smoker to a non smoker in 3 hours flat. More recently she's been helping me with some work/procrastination issues and the results are already a success. If you are serious about improving your life or conquering something which is holding you back, then you can't afford not to book an appointment with this personable, assiduous and able lady.
On 26th December 2014 at 21:16
Sincere thanks Leonora After a particularly stressful time in my life my anxiety levels were causing me real issues. My sister mentioned Leonora to me, she had previously taken her young son, thankfully I took her advice and booked myself in to see her. She made me feel so relaxed and normal and I felt like I had known her for years, she certainly has something special. After a couple of sessions I felt far less anxious and using her strategies have been able to move on. I would not hesitate to return to Leonora and to recommend her to anybody of any age. Thank you Leonora from the bottom of my heart.
On 13th March 2014 at 21:08:11
I would recommend Leonora to anyone suffering with mental health issues, she has helped me beyond words can describe. I have been battling anxiety and depression for over 5 years, and after finally gaining the courage to see Leonora, in just under 6 months of regular visits, she has put my mind at ease.She is calming, friendly, easy to talk to and I looked forward to seeing her every couple of weeks.Thank you for everything, Leonora.
On 14th January 2020 at 09:34
I went to see Leonora after losing my dad to cancer and my mum to dementia . I wasn't coping very well and was suffering with anxiety and panic attacks . Leonora had such a calming presence and she is so easy to talk to and very quickly recognised how to help me . She explained what happens when you have a panic attack and how to cope with it Thanks to her I now feel there is light at the end of the tunnel .Thank you so much Leonora
On 25th August 2019 at 10:25
Standing in front of a picture at the RA Summer Exhibition last week I suddenly realised that I was able to do so without any back pain. This was the first time I have been able to do this for many years. I had accepted the fact that back pain would be with me for the rest of my life. Last year I had a very painful trapped nerve in my back. Eventually it got better and my osteopath said that the nerve was no longer trapped but I was still in a considerable amount of pain. It was at this point that I contacted Leonora. Within two visits the nerve pain had gone and, as I gradually realised, all the other back pain I had been living with for a very long time had also gone. What she did for me was miraculous. She has also treated me for anxiety with great success. Leonora has improved the quality of my life beyond anything I thought possible
On 26th July 2019 at 14:55
Leonora was recommended to me through a friend whilst I was going through a tough time in my life. I'd been to a couple counsellors before and neither were working for me so I was happy to see someone new. My first thoughts when I met her were how lovely and welcoming she was, as if she'd embraced you into a big cuddle the minute you'd stepped in. I'd been told it takes time to find the right person for you but Leonora and I clicked instantly. She's so kind and so passionate about helping you in any way she can. She's a beautiful soul who I am very thankful to have met. I saw her for half a year or so and she has been an absolutely amazing help. I feel much happier in myself after our sessions and I know that she's always there to talk to if I ever need it. Thankyou Leonora xx
On 13th May 2019 at 17:54
Over the last 15 years my son has been suffering with severe mental health after many diagnosis of anxiety/depression being put on medication and basically not wanting to be here anymore, through a friend we found Leonora.Well my son and our family life has changed so much for the better. The very first appointment with Leonora my son felt at ease enough to be able to open up about everything leading to a full correct diagnosis of his metal health OCD and intrusive thoughts. With this correct diagnosis and Leonora expertise and 100% support we have been able to get my son the right help after 15 years of the wrong help!! and my god he is on the road to recovery now and his life and our life as a family is growing from strength to strength every day another step forward.Leonora made my son believe and trust in that his life does not have to be like this and he can make a full recovery with the right help and support.I can not thank Leonora enough for her professionalism, kindness and support I will be forever grateful and Leonora will always hold a special place in my heart as a mum who has her son back.Thank you Leonora x
On 29th January 2019 at 10:04
Hi Leonora,S and I have had a fabulous holiday, so much so that we extended our intended stay. We've been bitten by the travel bug to such an extent, we are planning to go off again next month to Europe, then once more in September when I will be celebrating my 70th.Over the past trip S and I have re-connected spiritually and physically and I have to say that your help and counsel have been invaluable in coaching me towards this new post retirement experience and to the reinstatement of our relationship together. We have been able to re-kindle our shared experiences that had perhaps become rather ordinary after so many years together. My head is in a much better place now.I can't thank you enough for assisting me in my quest to re-position my life when I was feeling pretty lost and I will certainly be in touch if I feel that I may be slippingH. L
On 4th June 2018 at 13:14
What can only be described as a life-changing experience… I began suffering with exam anxiety in Year 11 when undertaking my GCSE's I was moved into a small room with around 10-20 people yet this wasn't enough to calm my nerves. Exam season is obviously a particularly stressful time for everyone (including parents!) however, the stress and emotional discomfort I felt ran over the course of almost 4 months whether I had an exam that day or not. I was fully prepared for my exams with lots of revision but this at the time seemed to be worthless and what I saw as a waste of time as it was non-retrievable when it came to exams. Before going into the exam hall I would flood my head with situations that could happen to me making me feel even more anxious I was particularly afraid of getting too hot in the room, the worry of feeling unwell and feeling claustrophobic – like I couldn't leave the room (which you can!) After explaining this all to Leanora she was instantly able to tell me what I was experiencing, how it is caused and ways of treating it. After just hearing the diagnosis it put my mind at rest knowing not only that I wasn't alone but also that I could be helped.After only 2 sessions my exam anxiety became virtually non-existent. Hypnotherapy was something I was always very hesitant about – not fully understanding the concept of how it worked. I had this treatment a week before my first AS level and on the day of my first AS level, I noticed a huge difference even after the first session when I was to think about exams the 'butterfly feeling' in my stomach was gone. I have now completed 7 AS levels over 2 weeks with only one to go, I can only thank Leanora for helping me know how to calm my nerves and realise it's not all that bad!If anyone is thinking about having this treatment I can't recommend it enough, it is worth the time and as was I, I think you would be surprised at the outcome! Again, thank you for everything it has made such a difference in my life x
On 23rd May 2018 at 15:51
Leonora is an incredible lady. I was struggling with work – related anxiety, self-esteem issues and I found it very difficult to relax and generally found it difficult to pull myself out of a rut. Leonora listens, provides some great relative examples and has this unbelievable knack of understanding and addressing the root causes instantly. She also provided me with some very easy, simple to follow steps that have changed my life. If any of this resonates with you, seeing Leonora will be the best investment you ever make.
On 30th April 2018 at 21:48
I finally feel like I can enjoy life again. When I first saw Leonora I was feeling very disheartened by everything. Having dealt with a few blows in my life one after the other estrangement from family, domestic violence a single parent to my two young boys, I just felt like I was sinking. I was referred to Leonora. The first session I came to the realisation with the help of Leonora that I had many struggles to overcome mainly emotionally and I was also a long term sufferer of body dismorphia. My sessions with Leonora were like an awakening I found it very hard to open up but we laughed and laughed as she taught me how to retrain my mind to understand the feelings I felt and she gave me so many powerful techniques to help me deal with my feelings. My OCD was through the roof prior to my sessions, now I still get the odd urge and I will give into it but it is very mild. I am so grateful to Leonora for everything she has done for me. It was a very personal service and I really felt like she understood what I was feeling. A very special lady who saved me from myself . Taught me the best phrase I have ever heard and of which I now live by '"people seldom remember what you wore but they will never forget how you made them feel" Thank you so much for all your help. Love lots Charlie xxxx
On 2nd April 2018 at 23:23
I cannot rate Leonora highly enough or thank her enough. I was hopeful that she would be able to help me stop clenching my jaw (Bruxism) and therefore damaging my teeth (and to ease the associated jaw and ear pain) but I didn't expect such an amazing result. Leonora is fantastic at what she does. We talked at length and then I underwent hypnotherapy, which was incredibly soothing. I feel so much more positive and my stress levels are right down – and I can honestly say that the Bruxism is almost gone. It gets better with every passing day so I am confident it will ease completely. Seeing Leonora has made such a difference to me. I recommend her wholeheartedly.
On 28th January 2018 at 18:48
Leonora was recommended to me by a friend a year or so ago but at the time I didn't feel able to go and see her. Last February I had a baby girl who completed my family after already having 3 boys.. unfortunately my darling girl died 10 days old. My heart broke and I had to try and find the strength to carry on for my other children. Leonora put me at ease as soon as I met her, no judgements were made and I felt free and comfortable to tell her absolutely anything in complete confidence.I saw Leonora for a few months and in that time she helped me find my confidence again, my self worth and strength, the inner strength to keep fighting and strive for happiness for my children and for me. With Leonora's help I started learning to drive again, passed my test first time, applied for 3 jobs and got all 3 of them, and gained self respect that I had lost over time.I cannot recommend Leonora enough, I wish I had met her years ago, she opened my mind and eyes and changed my life for the better after losing my precious daughter I didn't know what way to turn, leonora helped me find my path. She is one in a million!
On 16th February 2017 at 19:31
i went to see Leonora for general anxiety issues for many years after a bout of depression. I had had counselling before (during my depression) but the general anxiety issues (especially with travel and crowded places) had not been helped. I tried CBT but to no avail.Leonora put me at ease from day one and said she could help. The sessions were amazing and I was able to tell her things/issues I had never even thought I could tell someone.To cut a long story short, over the past few months I have been on trains and buses (anxiety about public transport for 6/7 years!), I have been to the cinema many times and football matches (again almost petrified to do so before) and even travelled long distances in my car on my own!I can honestly say my life has changed for the better due to this woman!Thank you!
On 31st December 2015 at 16:24
This is the first ever testimony I've ever written, so hear goes. First of all I would like to express my thanks to leonora.So I came to see leonora in August as I was 3 weeks away from boarding a long haul flight. My main issue was sickness. Whether it was a sickness bug or food poisoning this was one of the reasons I hated to fly.Previous flights I would have taken prescribed drugs from my doctor to carm myself down. Last year was possibly the tipping point, as I starved myself for two weeks as I convinced myself I would get food poisoning!leonora was recommended to me be my sister. (Might I add she also helped my sister to stop smoking, within one session!) So I went along with an open mind. I found Leonora ( apart from being lovely!) Very professional and extremely knowledgeable. She explained things to me and everything she said made total sense.I had two long seasons with Leonora. The first, about 3 weeks before my flight. This really helped as she helped me prepare for my flight, I felt calmer already! The last, was 3 or 4 days before. After the last session I can only describe my feelings as very strange. I couldn't put my finger on it. Something had changed but wasn't sure what. Even now I can't explain it.So the flight.. If I'm absolutely honest, on the day the thought didn't fill me with joy. However! I was I different person, in the sense that I was calm, the sickness thing didn't really bother me to my surprise! I remember the last hour of the flight I popped to the toilet to freshen up, I looked at myself in the mirror and though.. This was the best flight I'd ever been on! I wasn't stressed, I had food in my tummy.. Yes I ate plane food! And it was chicken!!! I did question myself about eating on the plane and also thought, I was being so stupid! I had no problem and no worries of eating on the flight or catching anything from others… Amazing!!Leonora, thank you so much, you have honestly made a huge difference on something very important in my life xx
On 18th December 2015 at 21:11
I wanted to say thank you for helping over the past few years after my mum past away and helping me through my exams, I wouldn't have finished my degree without you. You help me through the worst time of my life which I will always be grateful for. Then when my very close friend past away you were there for me again. You helped me decide to go for my dream job and get the post graduate qualifications I needed to help me move forward. I don't think you will ever know how much you helped me, I can't put it into words.Thank you for everything xxx
On 3rd September 2015 at 21:30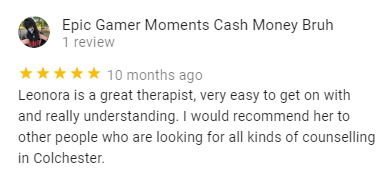 If you are happy and satisfied with what you have achieved because of our work together. Perhaps you would be kind enough to leave a short testimonial. It really could help someone else take those first steps towards resolving their own problems.
Many thanks and warmest wishes
Leonora
Call today for your FREE half hour telephone consultation 01206 683069
53 Crowhurst Road, Colchester, Essex CO3 3JN Telephone no: 01206 683069 | PRIVACY POLICY